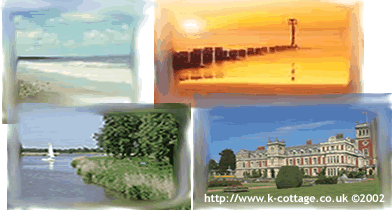 This part of the Suffolk coast is amongst the driest areas of the British Isles, which is one of the reasons why it is so popular with those who know it. It is surrounded by some beautiful countryside, and is also within easy reach of the popular holiday resorts of Lowestoft and Great Yarmouth with their fishing and shipping interests and delightful Oulton Broad, the southernmost of the famous Broads. There is also the lovely cathedral city of Norwich: the Somerleyton Hall, Park and Maze; the scenic Fritton Lake; The unspoilt and charming little seaside of Southwold and Aldeburgh, with its now world famous festival held in June and nature reserve in Minsmere.
Kessingland is a picturesque village approximately 100 miles north-east of London on the A12. This village is in a corner of peaceful Suffolk where, for centuries, the fishing boats have won a living from the sea. Pleasant cliff and beach walks are to be enjoyed, and a mile up the road is the Suffolk Wildlife Park.
Kessingland boasts a magnificent stretch of sand and shingle rural beach, and in 2002 won the Tidy Britain Group Seaside Award for its high standards of cleanliness and water quality for the tenth consecutive year.